Click here to check out this centre's stock clearance
Check out our range of tyres using the tyre selector below!
Find tyres by reg
Find tyres by size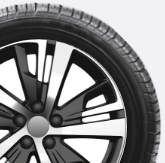 Our services
Services available at this Centre
Facilities available at this Centre
Welcome to ATS Euromaster's centre in Dundee where you will find everything you need to keep your car in peak, roadworthy condition. Sit back and relax while work is carried out. You can also enjoy free WiFi while you wait.
ATS Euromaster's Dundee centre supplies tyres for:
This centre can also supply specialist tyres such as:
ATS Euromaster is more than just a tyre supplier, however. We provide a wide range of services that will help keep your car healthy all throughout the year, with online booking available. All of our services are carried out by our team of expert technicians who will be more than happy to take you through any work before it is done, with no unnecessary work carried out, ever.
Dundee's ATS Euromaster centre provides the following services:
Standard Wheel Alignment
Techron Service
You'll also find a variety of tyres available for your vehicle type, letting you choose from a range of performance, economy and seasonal patterns from leading brands. So whether you're looking for budget tyres or the latest tyres from Michelin, Avon or Pirelli we have the tyre for you. All our tyres are available to buy online and you can book a fitting at our Dundee centre at a time that suits you.
The areas covered by ATS Euromaster Dundee are: Downfield, Lochee, Claverhouse, Fintry, Baldovan, Bridgefoot, Denhead of Gray, Invergowrie, Benvie and Birkhill.
Online or in-centre, you're in good hands.
How do I order clearance tyres?
Step 1: Browse the list of clearance tyres below to see if your required tyre size is available. Not sure how to find your tyre size? Click here for some hints and tips
Step 2: Contact your chosen Centre to check availability, reserve your chosen tyres and book an appointment
Stock clearance
Terms and Conditions
ATS Euromaster has a limited number of Tyre Clearance products available at certain ATS Euromaster Service Centres. These Tyre Clearance products are tyres which are available due to unfulfilled bookings, or they may be end of line products or they may be surplus stock at that Service Centre. Insert your post code to take you to your nearest Service Centre [landing] page to see which Tyre Clearance products are available at that Service Centre. ATS is unable to transfer Tyre Clearance products between Service Centres.
In order to check stock availability and to arrange to purchase tyres, customers should contact the relevant ATS Euromaster Service Centre direct via the telephone number provided on the website.
The Tyre Clearance prices are available on limited numbers of selected sizes and brands of tyres as stated on this website. When these tyres have been sold ATS Euromaster's Retail Centre Price List, which is current at the time of supply, will apply. The Retail Centre Prices will be provided upon request.
Tyres of the same brand, size and pattern (so long as they have not been discontinued) may also be available at other ATS Euromaster Service Centres. The ATS Euromaster Retail Centre Price List price will apply to those tyres. Please contact the Service Centre for details.
Tyre Clearance products are available on a "first come, first served" basis. Tyre Clearance product availability is therefore subject to change on a continuing basis. The presence of a product on the website does not guarantee that such a product will be available for purchase.
The 'Usual Price' refers to the fitted price for that product as set out in ATS Euromaster's Online Price List at the time of, or immediately prior to, it being included on the website as a Tyre Clearance Product. Online prices may differ to ATS Euromaster's Retail Centre Price List.
All Tyre Clearance prices shown on the website are in pounds sterling, are inclusive of VAT, are for a single tyre and include new valve, wheel balancing (these are mandatory) and disposal of your old tyres (if necessary).
Tyre Clearance products are available to purchase in selected ATS Euromaster Service Centres only. Tyre Clearance products cannot be purchased online.
All Tyre Clearance products displayed on this Website must be fitted at an ATS Euromaster Service Centre or by way of ATS Euromaster's Mobile Service. The Mobile Service is subject to an additional charge and is available at selected Service Centres only.
The Tyre Clearance products shown on the website are not available for collection without fitting. ATS Euromaster is unable to fit tyres to wheels which are not attached to a vehicle.
Tyre Clearance products are subject to very limited availability. ATS Euromaster reserves the right to withdraw a product and to alter prices without prior notification and at any time.
All Tyre Clearance products are sold under ATS Euromaster Terms and Conditions. We reserve the right to change these terms at anytime.
All product descriptions and illustrations shown on the website are provided in good faith but are intended for guidance and illustration purposes only and actual products may vary accordingly.
No refund will be made if you do not require any of the elements of the fitting services.
Tyre Clearance offers are available to Retail Customers in the UK only. Tyre Clearance offers are not available to ATS Euromaster Business or Account Customer.
Tyre Clearance products cannot be purchased in conjunction with any other promotion or discount.
The ATS Euromaster staff purchase scheme cannot be used in relation to Tyre Clearance Products.
ATS Euromaster's Terms and Conditions apply in respect of all products and services provided. Copies are available from all ATS Euromaster Service Centres and at www.atseuromaster.co.uk