Car and Van Air Conditioning Services
At ATS, we offer a range of car and van air conditioning services, including an air conditioning recharge/regas and anti-bacterial clean. Our air conditioner servicing ensures your vehicle's air conditioning system is running as cool and efficiently as possible. We recommend having your car and van air conditioning system checked and serviced with gas and lubricant every two years for optimal performance. Our technicians are also trained to carry out our air conditioning services on hybrid and electric vehicles.
Find out everything you need to know about car air conditioning servicing, and how to book yours with ATS today.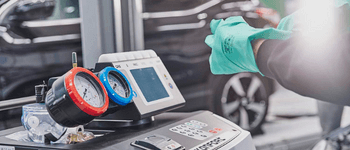 Air Conditioning not blowing cool air? If your Air Conditioning isn't cooling your vehicle properly, you might need an Air Conditioning Regas/Recharge
Recommended to do this annually
Time: no more than 30 minutes
R134a gas available
R1234yf gas available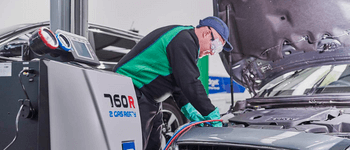 Combo Offer Take advantage of our reduced price by booking our Anti-Bacterial Clean & Recharge Bundle
Removes smells
Recharges Air Con
Time: 45 minutes
R134a gas available
R1234yf gas available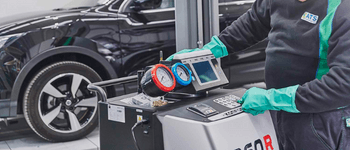 Smelly Air Con? Make sure your air conditioning is smelling fresh & clean with an Anti-Bacterial Clean
Time: 15 minutes
Removes unusual smells
Air Conditioning lubricant check
Refrigerant level check
Free temperature check
If your cabin area is not cool enough or the air conditioning system is struggling to clear/demist your windscreen, then it's time to get your car or van air conditioning system checked over by ATS Euromaster.
Vehicle manufacturers typically recommend drivers get their car and van air conditioning systems (and refrigerant gas levels in the system) checked after the vehicle is two years old, then annually thereafter. This is to ensure maximum system operating efficiency, as the system loses refrigerant naturally over time.
Search for your local ATS centre and find car air conditioning repairs near you.

Find a car air conditioning service specialist near you
We have over 250 centres throughout the UK with hourly air conditioning appointments available. Just select a date and time that suits you.

Over 50 years of expertise in air conditioning services
We have years of experience providing car air conditioning services and repairs using the latest equipment available. You're in good hands.

Our Car Air Conditioning Regas & Anti-Bac Clean Offer
Save money with our combined air conditioning regas & clean offer. Perfect for the summer heat!
How to Find Car Air Conditioning Services Near You
Use our ATS Euromaster centre locator to find car and van air conditioning services near you.
Worried your car air conditioning isn't working? Here are the most common signs
We offer car air conditioning services such as air conditioning recharge and anti-bacterial treatment services for both refrigerant gases widely used in vehicles today (R134a and R1234yf). This air conditioner servicing ensures your vehicles air conditioning system is running as cool and as efficiently as possible. We can then check for leaks in the system prior to recharging it with the correct volume of refrigerant gas, as well as topping up essential system component lubricating oils.
ATS Euromaster offers one of the largest networks of air conditioning equipment capable of servicing vehicles with R1234yf refrigerant – the new air conditioning gas used by most motor vehicles registered after 1st January 2017.
If you're unsure whether your car or van air conditioning system needs to have its refrigerant gas topped-up, our centre experts will be happy to carry out a free temperature test to see if the air coming from your system is as cool as it should be.
With over 250 centres that carry out both air conditioning refrigerant services throughout the UK, you can be sure to find an air conditioning recharge capable centre nearby!